Colonia del Sacramento, the 29.03.2005
Nearly 600 hotel addresses from Uruguay
The Uruguay magazine publishes today, not without pride, the kompletteste hotel address list of Uruguay. With the listing of nearly 600!!! Sorted according to Departamentos, we want to put the foundation-stone for a detailed travel guide, with addresses, tests and opinions to addresses about tourism. > > >
Colonia del Sacramento, the 8.2.2005
Special journey for emigrants
For all future emigrants the Uruguay magazine a route prepared info.. Experience they compactly and informatively Uruguay particularly from the view of the future emigrant, and save you time, money and above all nerves. > > >
Colonia del Sacramento, the 24.12.2004
The dream of the own weingut

On approximately 8 hectares in the proximity of Colonia del Sacramento a weingut with an annual production by approximately 60000 Kilos of weintrauben for age reasons one sells very favorably. > > >
Colonia del Sacramento, the 20.12.2004
Beer celebration in Uruguay

We visited the beer celebration in Colonia Suiza on weekend. > > >
Colonia del Sacramento, the 09.12.2004
Health insurance in Uruguay
Hospitals and medical supply in Uruguay > > >
Colonia del Sacramento, the 08.11.2004
Cimarron - the unknown dog race

Which has it with this rare uruguayischen dog race on itself, and why you in Uruguay has so many friends. > > >
Colonia del Sacramento, the 26.08.2004
Real estate prices in Uruguay

How does it actually look with the prices for reason and soil in Uruguay? A small overview. > > >
Colonia del Sacramento, the 19.08.2004
The Uruguay magazine moves.
The Uruguay magazine lives now in Colonia del Sacramento. Beside a genuine postal address and other Annehmlichkeiten we koenen our customers more service locally offer much now. Please you consider our new address and telephone number into "contacts". > > >
Colonia Suiza, the 03.04.2004
From key west to Uruguay.

The detailed documentation of the emigration of Markus Mertins and Ditte Broichs. > > >
Valdense, the 11.02.2004
A cow with skin and hair

A typically Uruguayi people celebration. > > >
Rio de la plata, the 11.02.2004
Just for material cowboy and bikers
Custom-made leather boots with Initialien as fire characters of 180 euro. " > > >
Rio de la plata, the 17.01.2004
Old timer current
You become so favorable never again. By the strong euro and the weak economy in Uruguay you can make here still genuine Schnaepchen (25-40 % under the usual market value). > > >
Rio de la plata, the 08.01.2004
Linux farm
Largest open SOURCE project of the world guarantees > > >
Rio de la plata, the 13.10.2003
unersaettliche meat desire

the high art of grilling. > > >
Montevideo, the 24.07.2003
forgotten estimates
dream country for old timer fans > > >
Montevideo, the 22.07.2003
correctly mate drinks easily made
which mate is exact, and like one it drinks > > >
Punta ballena, the 7.07.2003
wet in December? wet in the pool and coldly in the ice cube.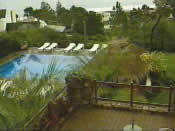 a small, calm and very exclusive oasis in punta ballena we present this week in our hotel test to them. > > >
montevideo, the 6.07.2003
"like a bird, without propellergeraeusche and exhaust gases"

we invited five reporters from Germany to regard the country from above. "at the beginning it was pure fear."
montevideo, the 16.07.2003
dream golf courses without hektik

no back-up on the golf course vorm anticipated payment > > >
>> -->
Colonia del Sacramento, the 7.12.2004
House to letting.

With pool, beach and comfort into the emigration start. > > >
Rio del la Plata, the 28.01.2004
Doreen and Nicole visit Uruguay
Nicole and Doreen from Berlin bereist in the past year Uruguay for 4 weeks with the backpack. Which you experienced and like their impressions were can it here in their detailed report on a journey reread. The Uruguay magazine thanks you for many the trouble, which the two gave themselves with their report, and hopes in the future for further resonance of holiday-makers made of Uruguay. > > >
Rio del la Plata, the 28.01.2004
A family in Uruguay
A short report, on a family already created it. They emigrated some months ago, and in a E-Mail a little on it reported themselves. Reason of enough for us to publish this E-Mail for other emigration-willing. Of course we deleted thereby private and the E-Mail address from protection from SpamMailing. Who asks to this family has sends these please as used on info@uruguaymagazin.com. > > >
Coloia Suiza, the 10.12.2003
Durable visa
Uruguay magazine arranged the most important conditions of entry to emigration. > > >
Coloia Suiza, the 8.12.2003
Uruguay magazine Card
The trading stamp for travelmerry. > > >
Rio de la Plata, the 3.12.2003
Emigrate like the professionals
An emigration wants to be well planned, it is to finally increase the quality of life. It is not necessary, which with errors to begin those already made first year before thousands of emigrants. Often it is however possible without strange assistance not better. > > >
Montevideo, the 17.07.2003
Highly the cups enjoying

For all friends of the fermented grape juice. Worth knowing over wines east the Rio Uruguay > > >
Montevideo, the 16.07.2003
URUGUAY MAGAZINE places today its forum in the net.
Who has questions or opinions about emigrating, tourism or Uruguay, this can place now in the forum. Also worth knowing is here desired! > > >
Montevideo, the 16.07.2003
Uruguay facilitates immigration.
Who comes to Uruguay whether to the vacation or for working, can carry its car forward tax and duty-free now for the period of 2 years.
Montevideo, the 13.07.2003
URUGUAY MAGAZINE slowly however constantly grows
Today we placed our and climate in the net. For criticism and suggestions we are grateful. Info@uruguaymagazin.com
Montevideo, the 5.07.2003
Cordially welcomely to the first edition of URUGUAY MAGAZINE
My name is Wolfgang Wehrheim and I would like you of cordially welcome-hot for the opening our on-line magazine.
With this magazine we want to bring you our dream country somewhat more near and help you to discover the variety of this small country.
I emigrated in the past year to Uruguay. The cordialness with which I was taken up here, was so largely that I had the feeling to have to return of it something. Exactly I would like to do that with this magazine.
A characteristic of this country is surely its relaxed way of life. That means real recovery for the holiday-maker. For the procurement of information this way of life is however no advantage. Thus one faces new ways of the information spreading sometimes very reservedly. And so it can sometimes be very arduous somewhat, exact information about the many beautiful hotels and gulf plants with photos, prices and independent tests to receive. In order to close this gap conscientiously and in detail, we will look for magazine in the whole country for the most beautiful places for you and them in Uruguay will gather. And now I wish you much fun with first schmoekern.
Its Wolfgang Wehrheim